A History of Innovation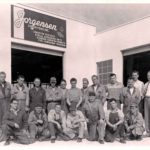 Since 1950, Mequon, Wisconsin based Jorgensen Conveyors, Inc/Jorgensen Conveyor and Filtration Solutions has been solving problems for customers with proven lines of hinged steel belt chip conveyor, coolant filtration and material handling equipment for machine tool, metal working and other industries.
Founded by Charles T. Jorgensen, the company started in all phases of general conveyor design, manufacture and installation in many types of manufacturing applications. Early customers included major manufacturing companies such as International Harvester, American Motors, JI Case, AO Smith, Ford Motor Company, and General Motors. Conveyor types included hinged steel belt, chip conveyors, roller, heavy duty scrap handling and apron conveyors, overhead trolley, slat and chain conveyors.
Jorgensen quickly began to get involved in conveyors for machine tool applications involving transfer and pallet shuttle systems. Along with these systems, Jorgensen began to build metal belt conveyors to handle chips, turnings and scrap produced by 
machine tools. These first machine tool chip conveyors were built using belts purchased from other manufacturers. Jorgensen bought the belt, built the conveyor casing and drive and sold the finished unit to the OEM machine tool builders.
Recognizing the weaknesses of existing metal belts, Jorgensen designed its own belt, had the proper tooling made and began to produce their own belt. The first stamping dies to produce belt parts were made in 1954. At this point, the OEM machine tool market was starting to become a substantial part of Jorgensen's business. Gisholt (Giddings & Lewis), Sundstrand and Greenlee were among our first machine tool builder customers.
In the late '50's and early '60's, the machine tool chip conveyor market grew as speeds, feeds and chip volumes increased, creating demand for automated chip handling. Jorgensen continued to refine and improve our original design and developed our present patented 2-1/2″ pitch chain featuring the off-set side wings, chain side bars and axles that pass through the hinge loops of the belt apron plates and all of the chain parts. The patents obtained by Charles T. Jorgensen on the off-set "pass through" side wing came in the early '60's. This design development was a key factor in Jorgensen becoming a major player in the growing machine tool chip conveyor market. It was and still is an ideal chain for the end-user customer since it is so easy to take the belt apart for maintenance purposes. The design was also very cost effective, since it requires fewer parts.
Jorgensen's History Through the Years
1960's, Jorgensen also designed 4″, 6″, and 9″ pitch apron belt with the same ease of assembly and disassembly features for larger scrap and parts handling applications in the metal working industries. Additional belt designs were developed in the 6″ and 9″ pitch sizes to meet the more rigorous specifications of the automotive industry.
1975 a 1-1/2″ pitch belt used primarily for machine tool chip conveyors was introduced for the OEM market. This development was driven by the machine tool industry's trend for building smaller machines allowing less space for the chip conveyor. Again, the patented features as to belt detach-ability were retained.
1980's Jorgensen built our current 100,000 square foot plant and headquarters office building.
1995 – Jorgensen developed the Filterveyor®, a chip removal system that addressed the coolant filtration requirements of the high speed CNC metal cutting machine tools.
2001 – a partnership was established with Broxtec, Inc. in the Czech Republic to gain new business and service our customers in the European market.
2002 – the LoadTamer® Line of process feeder conveyors for the recycling industry was patented.
2010 – Jorgensen introduced the ChipBlocker®.  A simple, retrofitted accessory unit for metal cutting machine tool chip conveyors, virtually eliminating chip carry-back into the conveyor and chip accumulation in the coolant supply tank.
2011 – Jorgensen began a new collaborative manufacturing and sales agreement with Sovereign Tech Engineering of Mumbai, India.  Sovereign Tech has a state of the art facility in India with an in-house core team comprised of experienced and qualified process engineers, machine tool engineers, tool engineers, maintenance engineers & chemical engineers. They, alongside Jorgensen's own staff,  provide the technical skills needed to engineer and manufacturer Jorgensen's custom conveyor and filtration product lines for the Indian Metal Working Industry at large. This relationship is strong today.
2012 – Jorgensen introduced its' popular MunchMan Conveyor at the IMTS show in Chicago. The twin steel belt MunchMan is designed to manage the "bird's nest" and long stringy chips produced during high speed turning operations. In 2013 the new and improved single drive MunchMan® is released with great success.
2014 – saw Jorgensen introduce the EcoFilter® Conveyor. It features an innovative two stage chip removal and coolant filtration design.  It is the first mid-priced system for turning 
and machining centers, takes up no more "footprint" than a traditional conveyor and can be ordered as an "EcoFilter® ready" option that allows an easy retrofit.
2017 – Jorgensen has become a resource for Vacuum Media Filtration systems for the composite machining industry. We have worked closely with our customers to develop an extremely effective system.
2018 – The flexible Jorgensen ShuttlePro® conveyor system was also introduced. It moves forward and backward on an electronically-controlled rail system while discharging scrap at both ends.  The ShuttlePro® is the ideal solution for automated level loading of chips into large in-plant central collection containers or truck trailers.
2019 –  As the business continues to expand, Jorgensen remains committed to purchasing and maintaining the most "state of the art" equipment available, a 250 ton Press Brake and 3kw Fiber Laser. This will ensure maximum performance and efficiency to service their growing customer base throughout the United States and Internationally.
2020 – Jorgensen is celebrating our 70th Anniversary! Video Celebration
2021 – To better align our name to our product offerings, we have changed our name to Jorgensen Conveyor and Filtration Solutions.
We began a partnership with SFH in France. When integrating their shredders, centrifuges and briquetters with Jorgensen's lines of custom conveyors, our customers are able to create a complete chip processing system to recycle metal scraps and save valuable space.
2022 – New product innovation takes the lead in 2022. The FlexFiltration system utilizes pre-engineered modules to tackle difficult coolant filtration applications with efficiency and cost effectiveness.  Our new PermaClean Filtration System eliminates sludge by adding agitation to the coolant collection tank; it adapts as an option to improve the performance of any filtration system.  FlexForce is unveiled as Jorgensen's new high-pressure coolant system that dramatically outperforms ordinary flood systems. Additionally, the Auger Assist Conveyor eliminates the need for frequent hopper unloads for many machine tool chip evacuation needs. Jorgensen also entered into a partnership with Will-Fill, a manufacturer of fully automatic coolant monitoring and managing systems.
2023 – Expanding the adaptability of its industry leading FlexFiltration, new Flex B and Flex C versions for that modular coolant filtration system were launched. We were also proud to again be voted a Top Workplace in Southeastern Wisconsin.


Jorgensen's design innovation and willingness to build to the customers specifications in the formative years of the machine tool chip conveyor market helped to establish our leading position in the industry. The company continues to be owned operated by third generation descendants of Charles T. Jorgensen; CEO, Chuck D'Amico. Jorgensen currently operates in a 100,000 square foot office and manufacturing facility in Mequon, Wisconsin, a suburb of Milwaukee.