PermaClean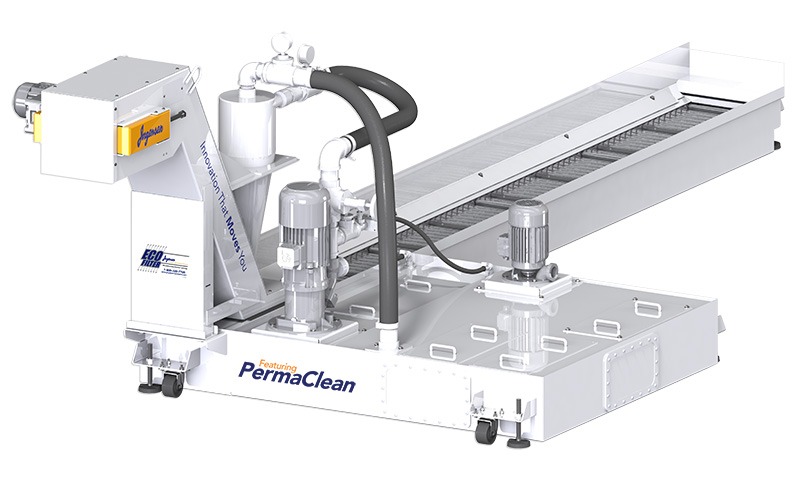 Virtually Maintenance Free Coolant Tank
The new PermaClean coolant tank accessory eliminates sludge and drastically reduces maintenance costs. Coolant tanks equipped with PermaClean are virtually maintenance free and significantly reduce the labor required for frequent coolant tank cleaning.
PermaClean seamlessly incorporates into Jorgensen's multi-step filtration systems. A typical PermaClean system includes an EcoFilter conveyor and additional fine filtration options. After primary filtration through the EcoFilter conveyor, eductor nozzles keep coolant in motion, suspending chip particulates and preventing them from settling. Coolant is then pumped through secondary filtration such as cyclonic, bag filters, or gravity media. Finally, coolant enters an ultra-clean tank for reuse in the machine tool. PermaClean combined with cyclonic filtration has no consumables in the system, resulting in an environmentally friendly, nearly maintenance-free solution.
Adding PermaClean provides consistent coolant quality throughout the tank and maximizes efficiency of filtration down to 50-micron nominal. It improves pump, tooling and coolant life as well as increasing part finish and accuracy. These filtration systems save on coolant costs and drastically reduce the need for coolant sump cleaner.
A happy tank = a happy bank!
Further automate coolant maintenance by adding Will-Fill to monitor and adjust coolant levels such as concentration, pH, and EC.