EcoFilter® 80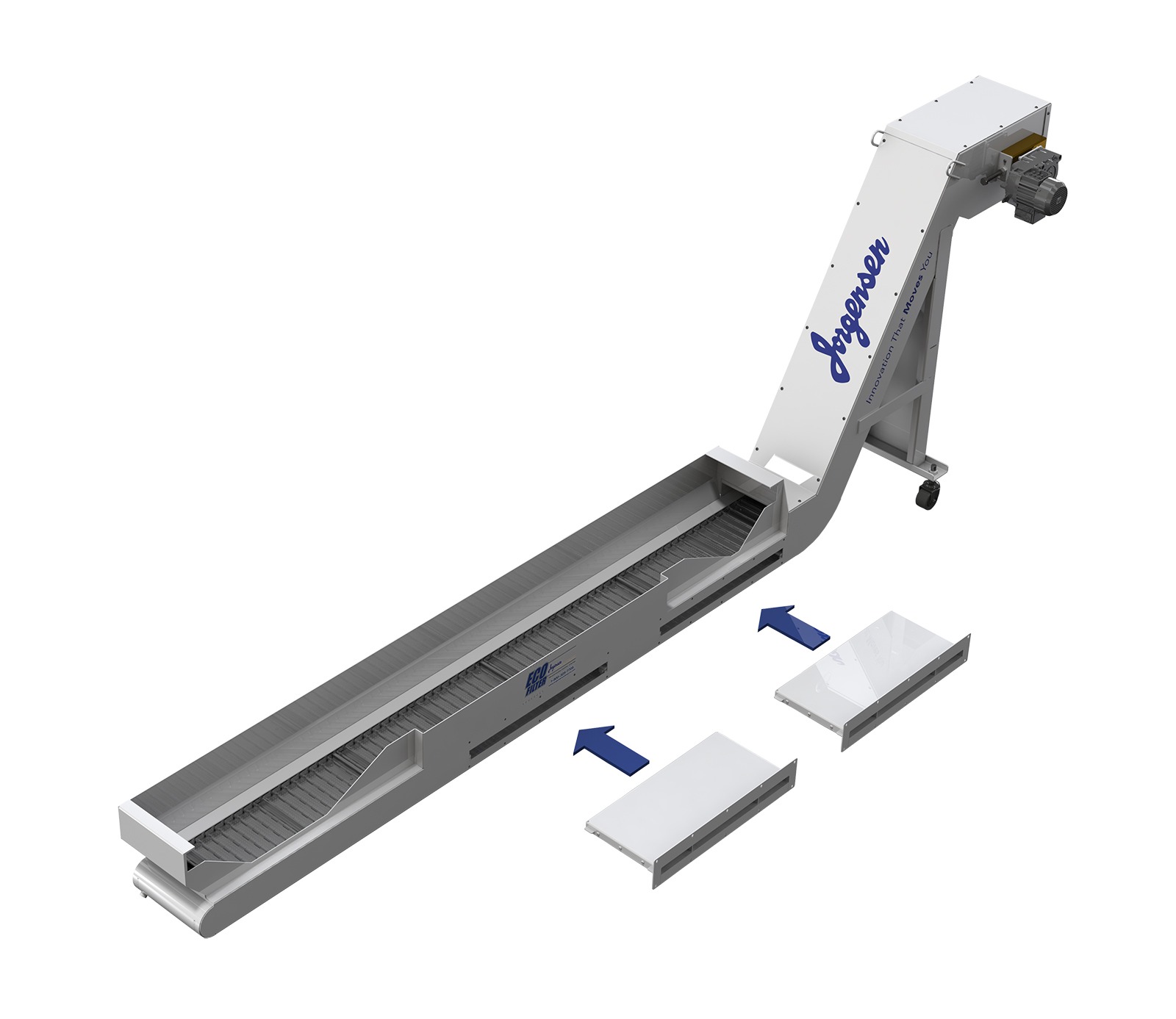 Filtering Conveyor Capable of 80-micron Filtration
EcoFilter® is a flexible, cost effective, self-cleaning conveyor and chip filtration system for turning and machining centers.  It easily fits any machining center or lathe envelope. EcoFilter® conveyors accommodate a broad coolant flow rate range via flexible filter cell sizing. They provide efficient filtration of fine chips to 80-micron nominal at over 97% efficiency*, resulting in improved part finish and accuracy. EcoFilter® works well on its own or makes a great initial filtration option. It integrates especially well with FlexFiltration® systems.
How it Works
Chips and coolant enter the conveyor's load section.
A hinged or scraper belt carries out large chips and/or stringers
Coolant and fine chips flow to the section in between the runs of belt, where the EcoFilter® cell is located.
The filter cell separates fine chips from coolant. Filtered coolant flows from the inside of the filter cell, out of the side of the conveyor, and into the coolant tank.
Brushes continuously wipe fine chips from the surface of the filtration cell, keeping the cell clean for coolant to pass through.
Small chips exit between the runs of belt through the bottom run via patent-pending CleanCleat® system, to the bottom of the conveyor casing.
Fines that migrate to the bottom of the casing are scraped up to the top run of belt and discharged.
Jorgensen's standard hinged steel belt "EcoFilter®-Ready" conveyors can convert to an EcoFilter® with a simple field retrofit kit within an estimated 4 hours.
If 80-micron filtration isn't needed or a high flow rate is required, the EcoFilter® 200 is also available, capable of filtering down to 200-micron nominal. EcoFilter® 200 offers nearly maintenance free filtration for general applications or works well as an initial filtration method to a larger system.
*Third-party tested