Auger Assist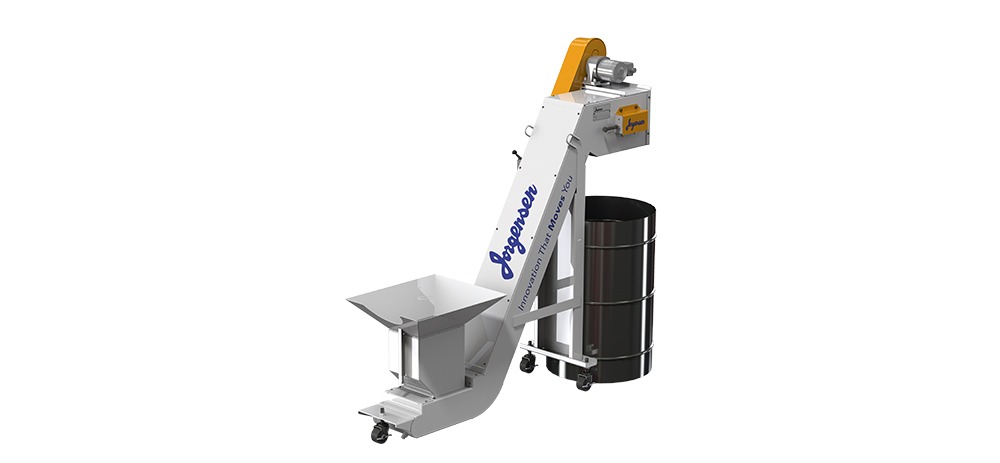 Conveyor for Auger Driven Machine Tools
The Auger Assist is a hinged steel belt conveyor for machine tool models equipped with auger evacuation systems.
Many of today's machine tools are sold with a chip auger and cone/flume as the primary chip evacuation method. As a result, their relatively low discharge height fills small chip hoppers quickly. To eliminate the need for frequent hopper unloads, Jorgensen offers the Auger Assist conveyor. This chip auger conveyor's standard 48-inch discharge height allows for the use of full-size barrel or hoppers. The machine can then handle a higher chip volume with decreased labor for chip hopper management. It also features a coolant collection area and a drain plug to reclaim coolant.
Several inches of load chute height adjustment allow the unit to adapt to various machine tool models. Adjust the metal chute 90 degrees in either direction to allow for a left, right, or forward discharge to fit the available floor space. This compact mobile conveyor is easily maneuverable for use on multiple machines. Due to the small size and lockable swivel wheels, mobile conveyors can easily be moved for maintenance or cleaning.
The Auger Assist's pre-engineered design gives it a low cost and quick delivery times. For added value, Auger Assist can easily integrate into larger chip processing systems.