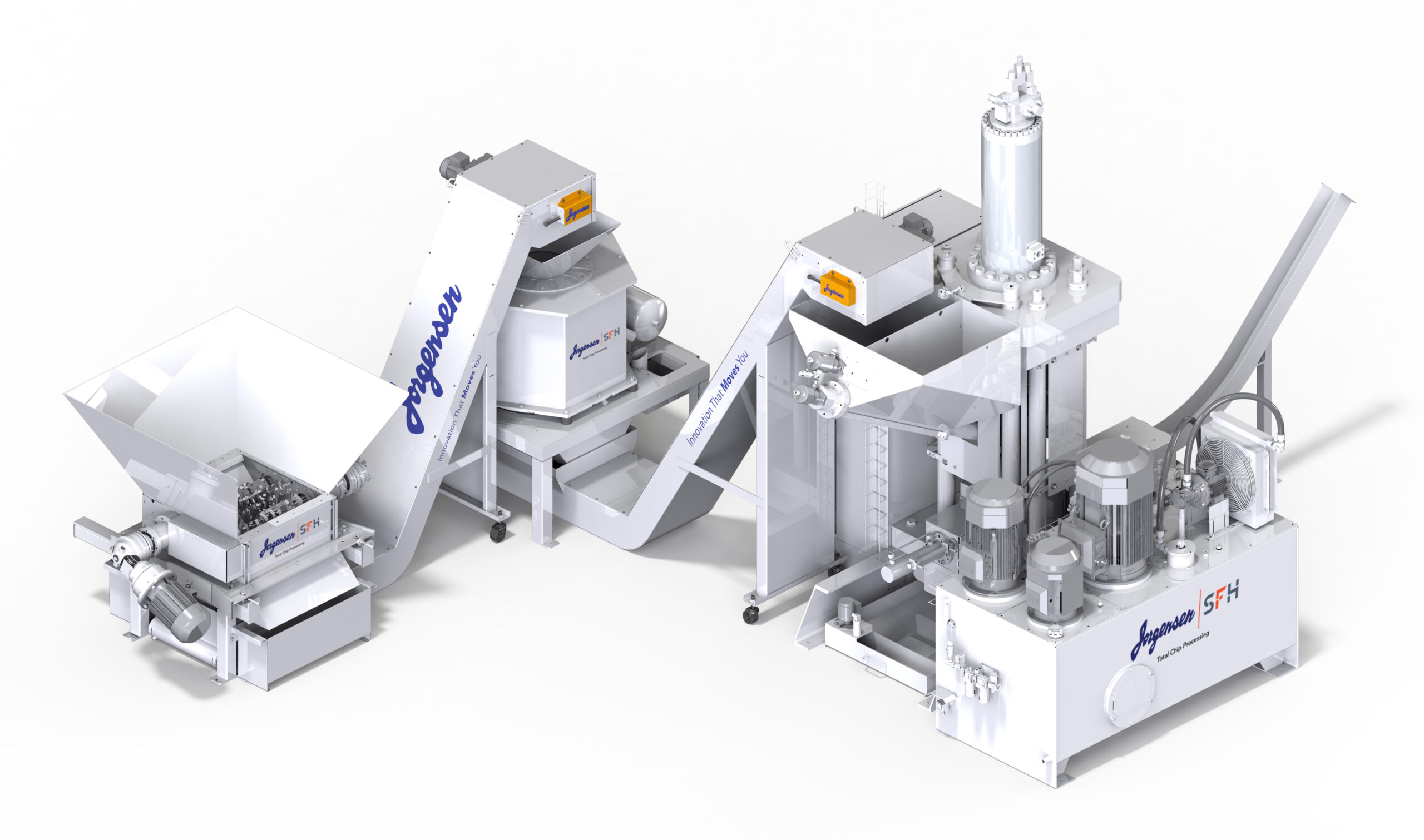 July 10, 2023 11:38 am
For optimized metal machining, every shop needs a chip processing system designed and implemented to meet its individual needs. Each application is unique, although most systems must handle some combination of shredding, wringing and briquetting. Complete processing with standalone or fully integrated systems that shred, wring and briquette manufacturing byproducts can reduce chip volumes by up to 90%, cut pickup and transportation costs, reclaim coolant and raise recycling values significantly.
The right chip shredding equipment can reduce the volume of aluminum, magnesium, copper, brass, steel and other types of metal chips significantly, which in turn reduces the costs of labor, storage, transport and disposal. Single and double-shaft shredders reduce chip size efficiently to prepare for centrifuging or briquetting. This volume reduction also cuts down on the need to remove and empty chip bins, which frees-up shop employees to focus on more productive work. The proper size and type of shredder, matched to a shop's chip material and output, yields increased return on investment (ROI).
Along with volume reduction, every complete processing system should reduce the need for manual intervention. To that end, shops can add auto loaders and conveyors for fully automated chip processing. These features dump chips into a hopper with a screw-type auger that feeds chips into a shredder. From there, chips travel on a conveyor to wringing process that removes moisture. After which, a hydraulic press forms them into briquettes. This workflow offers special benefits in handling the combination of machining chips and die-cast flashing. An automated system reclaims and briquettes these materials, then deposits them into a furnace for die-casting reuse.
Some of these workflows typically occur in larger shops, but complete chip processing isn't just for big manufacturers. For example, Jorgensen Conveyors and Filtration supplies a range of complete systems that can combine shredding, wringing and briquetting options with custom conveyors. Smaller shops can choose simple standalone systems that cost less than fully automated options. Although many smaller systems require more human intervention, some include tipping and dumping capabilities that ease the process of loading and unloading. To construct the ideal system for an individual shop's unique applications, Jorgensen starts with the basic steps involved in complete chip processing.
Shredding
Straight off the manufacturing line, chips come in all shapes and sizes, and to optimize their use in downstream processing, they must be small and uniformly shaped. To cut them down to size, shredding typically serves as the first step in complete chip processing.
Shredding also removes air around chips and therefore reduces total chip volume by 50% to 60%. For example, shredders make quick work of stringy, sharp-edged bird's nest chips that otherwise monopolize storage space. Even with no further processing, shredding makes these chips much easier to handle.
Some shops – especially those that focus on turning – prioritize reduction of chip size and volume over all other objectives, and may start with a chip-processing solution that focuses solely on shredding. With the right shredding solution, these shops can add wringing and briquetting later on to reclaim coolant and increase chip-recycling value.
Wringing
With chips shredded to a manageable size, chip processing focuses on removal of coolant and/or cutting oil. Many shops simply let coolant settle to the bottom of a chip hopper, then open the valve to drain it out and collect it. This time-consuming manual task is highly inefficient. Worse yet, some shops simply toss coolant and chips together into recycling bins. With an investment in wringing and filtration, these shops can reclaim coolant, save money and increase the value of their recycled materials.
Wringing uses centrifugal force to extract liquids for reclamation. Some wringing processes leave less than 0.5% moisture content behind, which offers special benefits for machining applications that generate fine chips.
Some shops install coolant filtration directly on their machine tools. Otherwise, sumps pump the coolant from wringer catch pans into hoppers, with filtration added directly to the wringer if necessary. This approach filters coolants down to or below 10 microns. To avoid stripping out coolant additives, water-based coolants should not be filtered below five microns. Once a filtration unit processes the used coolant or oil for reuse, it returns to the machine tool.
Briquetting
With or without prior wringing operations, hydraulic briquetting uses a compacting chamber that condenses chips and also pushes out cutting fluids to increase recycling value while it reduces chip size and volume. Recyclers may pay a premium – 15% in some cases – for briquetted chips. Ideally, shops should talk with their recyclers to determine whether briquetting will yield a higher price for recycled chips.
Mixed Chips
Shops that deal with a variety of materials can incorporate separating systems into their chip processing. One strategy simply consists of running each material separately through a single processing system, then cleaning it out before processing another material. To avoid cross contamination and accommodate extremely high chip volumes, shops can implement multiple shredders and dedicate each to a specific chip material.
ROI: The Bottom Line
Complete chip processing systems such as the offerings from Jorgensen can provide standalone solutions or become part of larger installations, with infeed augers, transfer conveyors, chip hoppers, bin tippers and more. Each system makes a targeted contribution, especially to applications that involve oil, titanium, other costly alloys and some aluminums. Four shop scenarios demonstrate how quickly – and how thoroughly – a properly designed complete chip treatment system can pay for itself.
Stamping
A stamping facility that worked with 375 tons of aluminum each year implemented shredding, wringing and briquetting. Once the system went online, chip-volume reduction cut their waste transport costs while coolant removal increased their scrap resale value. With these savings, the processing system paid for itself in two years.
Machining and Turning
To increase scrap resale value, a manufacturer that machined and turned 95 tons of titanium annually chose a shredding and wringing process. The company's post-treatment scrap price rose 269%, and the system paid for itself in seven months.
Another shop with an annual machining and turning volume of 130 tons of aluminum looked to increase its scrap value, reclaim coolant for reuse and simplify overall scrap handling. With shredding and wringing, scrap value rose by 129%, enabling the system to reach ROI in eight years.
Oil Reclamation
A facility that processed aluminum, titanium, brass and copper added a shredding and wringing solution with a bin tilter. With the sole goal of oil reclamation, the system achieved ROI in 1.1 years.
As these examples show, complete chip processing can increase efficiency, improve recycling values, reclaim coolant and eliminate unproductive manual intervention. With a properly designed and configured system from Jorgensen, manufacturers can reduce chip volumes and increase their profits.
Categorised in: Case Stories, Promotions