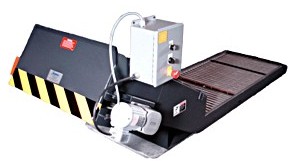 March 15, 2018 8:10 pm
A Tractor/Farm Implements company in Burlington, Iowa was having problems with the conveyors that came with the Laser Cutting Machines they purchased.  The laser machines had small bins that were low to the ground that caught the metal fines, dust & scrap.  These generic conveyors weren't suited for the Laser Cutting Application that needed a more heavy duty belt.  As a result they were failing and breaking down.
Instead of shutting down the production line, the company made employees dig in the baskets to clean them out.  They quickly became aware it wasn't the best solution for the employees and their backs bending down all the time.  Plus, they were paying an outside maintenance crew to service the machines, so it became apparent how much they were spending to maintenance these conveyors.
A couple of years ago, Jorgensen Conveyors had supplied our Laser-Veyor® Conveyors to another part of this company and because they were working so well, they knew it was going to be a better solution that what they were currently dealing with.
Jorgensen's engineers traveled to the plant for a complete assessment of the machines and the new plant design to assure accurate quotes and to avoid any possible fit-up issues.
Jorgensen Conveyors solved their problem by building a 1 1/2" pitch x 15" wide Laser-Veyor®.  This provided an incline which allowed a much larger bin to collect metal fines, dust & scrap.  The Laser-Veyor's® heavy duty belt, prevented the fines & dust from getting into belt components and destroying the conveyor.
The features and benefits of a Laser-Veyor® include:
  Hardened belt connecting pins (axles) for wear resistance.  
They also feature special wiper cleats on the conveyor belt to remove metal dust from the inside of the conveyor.  
This style belting is available to replace worn existing laser conveyor belts for both domestic and imported laser machines.  
They can also be used to replace belts in most competitors' conveyors.
The company liked that these conveyors were low maintenance and freed up their personnel.  This now makes their problematic machine the most efficient in their plant.  They also liked that they're built in sections, which made removal for maintenance easier, versus the conveyors they had before.
This case demonstrates Jorgensen's commitment to building close relationships and meeting each customer's specific needs.  Our goal is to look at each machine and process to customize a product solution that will provide the machine tool ROI that the customer expects.  Miss-applied conveyors and filtration systems on machine tools result in premature conveyor wear, costly machine downtime, poor part finishes, and excessive coolant costs.  No other company has a broader range of machine tool conveyor and filter product solutions to help eliminate these problems.
Categorised in: Case Stories