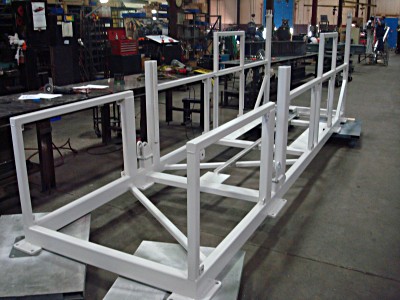 March 15, 2018 8:11 pm
Recently, Jorgensen Conveyors was selected to fabricate and supply a steel support frame weldment to a global conveyor manufacturer which imports telescoping conveyors built in Europe for sale into the North American market.  The conveyors are designed to articulate into truck trailers for loading and unloading small packages at warehouse distribution centers for companies like Home Shopping Network, FedEx and Amazon. Our Contract manufacturing abilities made us the perfect choice for this customer.
Jorgensen's Manufacturing Engineer worked with Jorgensen designer Josh Randall to design the support frame in a Solid Works model from a customer-supplied drawing.
 This model was then used to design and manufacture internally three large weld fixtures and four smaller sub-assembly fixtures which are now used to accurately build these frames.
A new Do-All horizontal band saw was purchased for cutting 241' of tubing into 42 pieces.  Scrap factors of less than 4% are realized with a cut list created to maximize material usage.
Threaded hardware is installed and holes are tapped into the assembly to provide fastening points for other components which the customer adds on.
Frame is wet painted and delivered to the customer.

To date some 60+ frames have been supplied and the customer recently placed an order for another 20!
Jorgensen has significant metal fabricating design and manufacturing capability.   Please contact us if you are interested in having us make a quotation proposal!
Categorised in: Case Stories