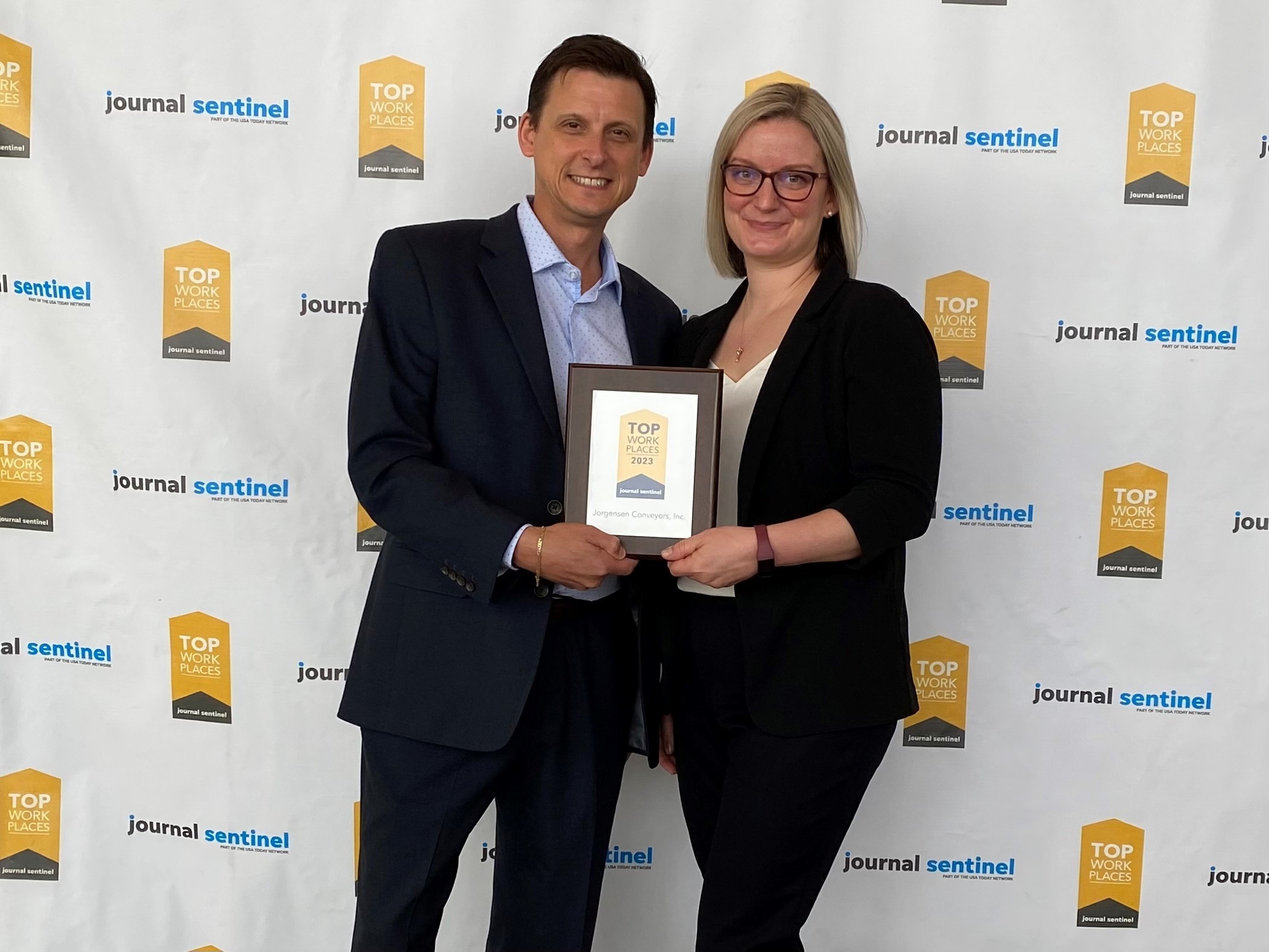 May 22, 2023 9:58 am
MEQUON, Wis. (May 22, 2023) — Milwaukee Journal Sentinel recognizes Jorgensen Conveyor and Filtration Solutions as one of the best places to work in Southeast Wisconsin. This is Jorgensen's third time receiving this honor. Top Workplaces are awarded based on employee feedback gathered through an extensive survey conducted by a third party. Companies are measured on qualities such as company leadership, career opportunities, workplace flexibility, compensation, benefits, and the impact company policies have on innovation and morale.
Post COVID pandemic, it has become more important than ever to attract and retain employees. Jorgensen has emphasized the employee experience through listening to employee feedback and offering meaningful benefits. "We are very pleased to receive a Milwaukee's Top Workplace award once again," said Karl Kleppek, President & COO, "It is great to receive validation from our Jorgensen team that we provide an environment where our employees can thrive. Employee engagement continues to be an important piece of our day-to-day actions. We look forward to an even more prosperous future for our company and its employees."
Survey results show employees at Jorgensen display good interdepartmental coordination and feel well-informed about important business decisions. As a result, employees work together efficiently to produce quality products and provide a good customer experience.
Jorgensen's core team sees these results as both an honor to be recognized and an opportunity for growth. They plan to continue making improvements that reflect the values of employees and enhance the employee experience.
About Jorgensen Conveyor & Filtration Solutions
With over 70 years of experience in designing and manufacturing advanced conveyor, coolant filtration and material handling solutions for the machine tool, fluid filtration, metalworking, unit handling and recycling industries, Jorgensen Conveyor & Filtration Solutions offers a wide range of standard and customized systems to companies across North America and globally. All products are engineered to provide high quality, cost effective, application-based product solutions for even the most demanding environments.
For problem free production and material handling without bottlenecks caused by maintenance intensive systems, poor chip management or coolant filtration, the company manufactures reliable, innovative conveyor and filtration solutions, including MunchMan®, EcoFilter®, Filterveyor®, ShuttlePro, FlexFiltration, FlexForce, PermaClean, Will-Fill and UVS Ecologic Control® systems.
Jorgensen sets the industry standard for quality, reliability, and value for all your material handling needs.
Categorised in: Company News, In the Press