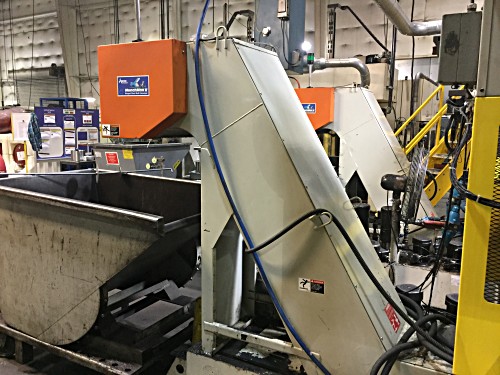 March 15, 2018 8:08 pm
Amsted Rail, a leading manufacturer of railroad car components and systems in Petersburg, Virginia, realized their existing chip conveyors were falling apart.  These conveyors were handling chips from the turning of large steel parts and were constantly jamming up from long bushy stringers. Mark Vieira, Machining Process Engineer, observed the maintenance technicians using  pipe wrenches on the motor shafts to force the conveyors past the jams.  The conveyors were also attached to the machine above the coolant tanks which allowed a lot of chips and debris to fall into the tanks. "We normally run twenty-four / seven, so the coolant tanks would fill with chips and have to be cleaned every three months," Mark said. 
 At a recent IMTS in Chicago, Mark visited the Jorgensen Conveyors' booth. Mark learned that the 
MunchMan®
employs a unique twin belt conveyor arrangement that reduces or even eliminates material conveyance and conveyor jamming problems.
 It's ideally suited to turning and milling operations where long stringy and heavy chip volumes are generated.
  Mark started the process of putting the MunchMan®  chip conveyors into all their Murata twin-spindle turning centers.
For Amsted Rail, Jorgensen designed the coolant tanks and MunchMan® conveyors to fit the Murata MW400 and MW200 machines with the chip conveyor sitting down into the coolant tank to allow better chip carry out.  "Jorgensen designs custom solutions to meet the needs of our customers," said Co-Principal John D'Amico. "With any new order, our engineers create designs using SolidWorks that will solve the application need.  We then build the conveyors here at our 100,000 square foot manufacturing/headquarters facility in Wisconsin." 
 Mark said, "We would lose 96 hours of production per machine each year to clean our coolant tanks during regular working hours. With the MunchMan®II conveyors, we reduced our coolant tank cleaning from once every three months, to once a year. We are able to clean our coolant tanks during our normal shutdown weeks, so we do not lose any production time for coolant tank cleaning. Only having to clean the tanks once a year means we have also reduced our coolant tank hazardous waste removal by 75%." 
 "The Jorgensen chip conveyors also came equipped with a UVS EcoLogic® control  What this control does for us is, if something falls into the conveyor or if the quantity of bushy chips that are in the conveyor starts to jam the conveyor, the conveyor will automatically back up and go forward again three times to try and clear the jam, before stopping. We then clear the jam manually. This saves our conveyors from being damaged because of forcing the conveyor to pass the jam through. This along with regular maintenance should afford us a much longer chip conveyor life. "Our old chip conveyors lasted three years. Our new Jorgensen chip conveyors have been in place for two years and are still performing very well," says Mark.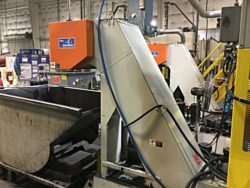 Installed MunchMan® II Conveyor on turning machine
Categorised in: Case Stories