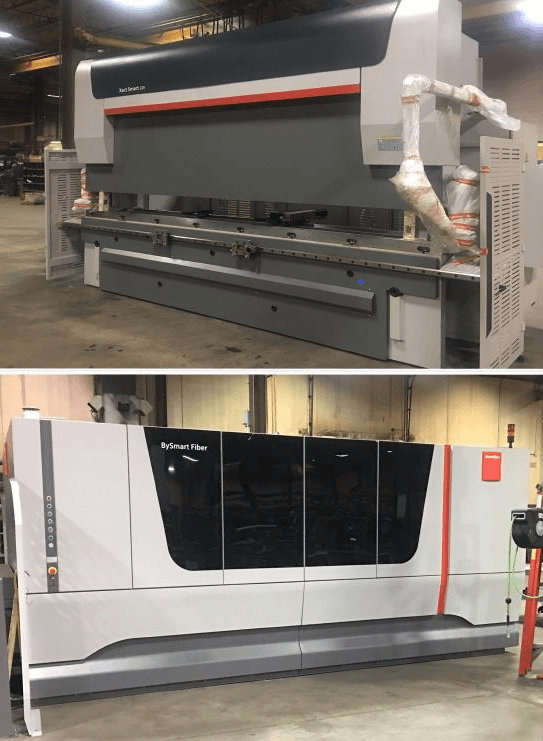 June 10, 2019 4:21 pm
Jorgensen Conveyors, a leading supplier of conveyor and filtration technology for metalworking and other industrial applications, is pleased to announce the recent purchase and installation of two important pieces of manufacturing equipment.  As the business continues to expand, Jorgensen remains committed to purchasing and maintaining the most "state of the art" equipment available to ensure maximum performance and efficiency to service their growing customer base throughout the United States and Internationally.
Jorgensen purchased the equipment from Bystronic, Inc., one the world's leading builders and suppliers of metal cutting and forming machine tool technology.  The package includes a 250 ton Press Brake and 3kw Fiber Laser.  Both of these new machines feature the latest in laser cutting and bending technologies as well as controls that seamlessly integrate with SOLIDWORKS 3D CAD Software.
"This significant investment of nearly $1 million dollars by Jorgensen Conveyors will greatly increase our capacity for growth and support our on-going commitment to quality and competitive pricing for our customers" says John D'Amico, Co-Principal, Director of Sales & Marketing for Jorgensen Conveyors.  "Now is the best time ever for both existing and new customers to talk to us about their chip conveyor, coolant filtration, chip processing and metal working parts and scrap handling requirements."
Categorised in: Company News, In the Press