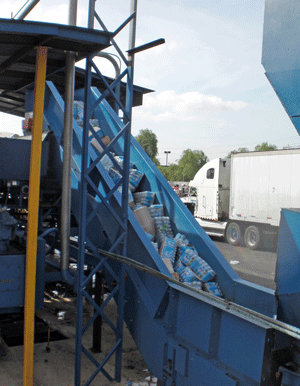 March 15, 2018 8:01 pm
Jorgensen Conveyors was contacted by Parallel Products of Rancho Cucamonga, CA.  This company has pioneered technologies for the processing of food and beverage wastes into animal feed and ethanol fuel by managing the destruction of unsalable case goods of food and beverages. They needed a heavy duty sorting conveyor to handle the bulk containers and pallets loaded by forklift. Loads of 2500-3500 pounds at one time are conveyed up to a sorting table. 
Jorgensen's solution was our 6″ pitch x 36″ wide metal hinged  steel belt Conveyor we call The LoadTamer®.. This conveyor is one in a line of process feeder conveyors that Jorgensen designs and manufactures for the recycling industry.
"The conveyor operates outside and is subjected to both weather and a harsh liquid environment.  Since the conveyor has been installed, it has run trouble free, with no downtime," says Bob Pasma, Vice President of Operations from Parallel. 
As a safety precaution, all LoadTamer® conveyors have a built in backstop.  In the event of a mechanical or electrical overload, the backstop prevents the belt from reversing.
The LoadTamer® is available in 4", 6" and 9" pitch belt sizes with metal apron, z-pan or combo belting options.
Categorised in: Case Stories