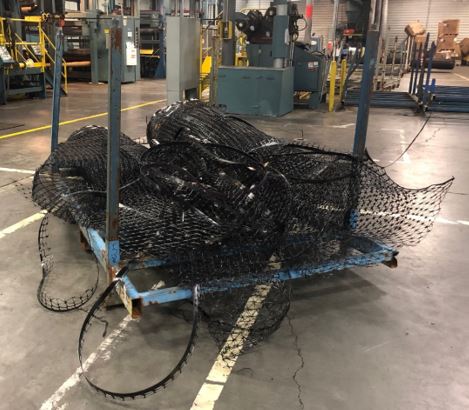 July 20, 2020 2:47 pm
A manufacturer of nylon Geo-Grid material, used in retaining wall construction, needed a conveyor for their application.
During the manufacturing process, the nylon material starts out as one big piece.  They then cut and stretch it.  The defective piles need to be manually lifted up overhead into a dumpster.
They looked to Jorgensen to make this process more efficient and prevent them from having a safety hazard, by taking the manual work out of the process.  Jorgensen thought outside the box and didn't suggest a metal hinged steel belt.  The material was very lightweight.  It would get lodged into the hinges of the hinged steel belt.  Jorgensen suggested a Rubber Belt Conveyor instead.
Rubber and synthetic belt-style conveyors can be designed to handle a variety of materials from wood, plastic, packaging, dust, recycled materials, coat hangers, you name it!  Jorgensen is capable of providing conveying solutions outside of the metalworking market!  We welcome these opportunities if you see them in the field!
The new conveyor is 68″ wide x 387″ long.  Discharging at a height of 108″.
Categorised in: Case Stories