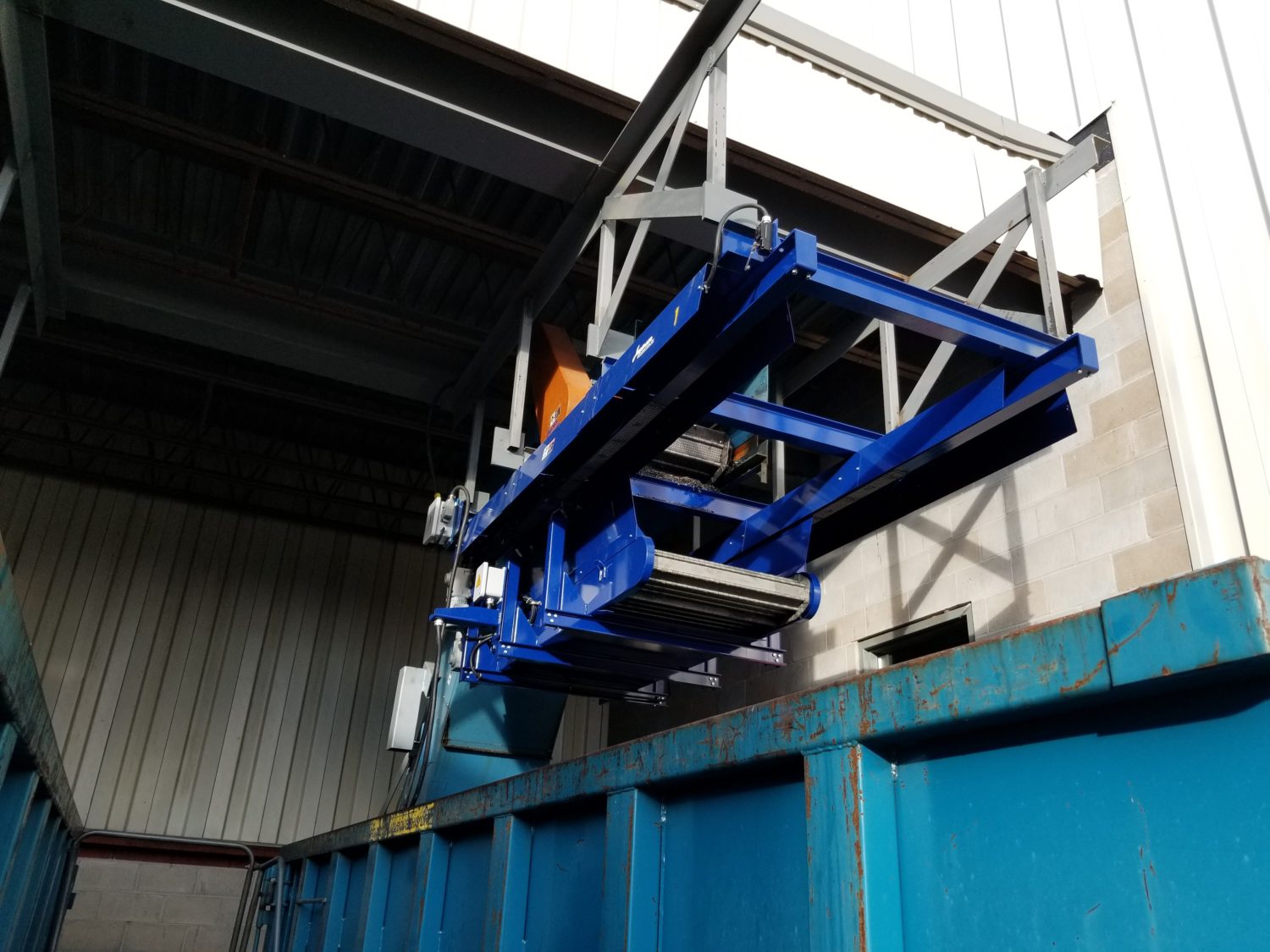 November 29, 2018 8:55 pm
Triangle Tool Corporation in Milwaukee, WI makes dies & mold casings for a vast array of products. They generate 50 to 60 cubic yards of steel chips per day from their large machining operations. This scrap material is collected and disposed of in large roll off dumpsters to be hauled away.  Problems occurred as these chips were piling up and not being evenly dispersed. Production slowed as a maintenance employee had to rake the chips multiple times per day to level out the load so that they could maximize the amount of material to be taken away.
Triangle Tool sought out our assistance to accomplish several goals. First, they wanted to eliminate the cost and safety risks involved in manually raking chips and second, to keep their production running while the chip loads were being fed into the roll-out dumpsters.
After several brainstorming sessions, Jorgensen engineers decided to custom design and build a shuttle conveyor (motorized trolley system) that could be mounted to an upper existing structural support at the dumpster load area. This conveyor would move forward and backward on an electronically-controlled rail system and the conveyor's belt would run in two directions for discharge of chip scrap on either end of the conveyor.
Triangle Tool needed the ShuttlePro Conveyors to include controls that would also work in conjunction with their existing conveyor systems. The new controls included VFD (Variable Frequency Drive) operated drive trolleys, which allow the ShuttlePro to gradually ramp up/ramp down its travel speed for smooth transitions to each desired discharge position and to match chip flow.
Today, three of Jorgensen's ShuttlePro Conveyors keep production running without shut down and eliminate the need for manually leveling chips in the now fuller and evenly filled dumpsters. Watch the ShuttlePro Conveyors in action!
Always remember that Jorgensen Conveyors can custom engineer conveyors and machine tool filtration products for the exact fit and application needs of the customer!
Categorised in: Case Stories