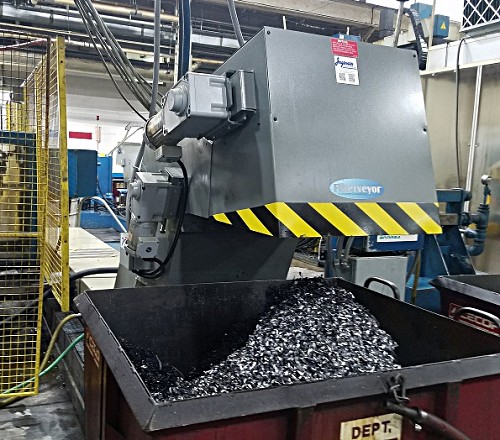 March 15, 2018 8:10 pm
Trane, located in La Crosse, WI is the manufacturer of commercial air conditioning systems for large buildings. They were 
experiencing issues with the existing (non-Jorgensen)  coolant filtration chip conveyors on two milling machines.  
These systems were jamming and shutting down the milling machines:
Caused additional maintenance time of over 300 hours over a 3 year period
Trane replaced the entire hinged belts twice on each conveyor
They spent upwards of $60,000 for replacement parts and maintenance labor!
 They decided enough is enough.  Too much down time, too much maintenance time and high frustration levels resulted in sourcing a better solution.  Trane already had a lot of Jorgensen products on their floor that needed little maintenance attention.  They decided   to reach out to Jorgensen to assist with this particular problem.
 Greg Anzia, Wisconsin Sales Rep for Jorgensen, went to the Trane facilities to assess the problem.  Greg said, "Matthew and Phil in maintenance talked to me about the application and the current issues they were having with the existing equipment.  They were experiencing an increase in downtime on the machine due to having to perform repairs due to breakdowns.  They told me they wanted something that would be reliable and easy to maintain."
 Based on their chip volume and coolant flow, Greg chose to provide a proposal for two identical Dual Stage Filterveyors® for their machines.  Trane went forward with this purchase.  
Efficiently remove everything from large bushy stringers to small chips and small fines of steel, aluminum, brass and many other materials, filtering up to 50 microns nominal.
Chip migration to tank is greatly reduced
Featuring a drag flight conveyor and a self-cleaning drum system for maintenance free operation and extended coolant life, the end result is less downtime
There is no disposable media to be replaced, providing a cost effective and environmentally friendly solution
One system is capable of providing filtration to multiple machines.
 Matthew Johnston, Journeyman Maintenance Technician at Trane said, "Thanks to all the assistance from Greg Anzia from Jorgensen! Visiting our facility and measuring everything up this operation ran very smoothly.  Both dual stage conveyors were simple to change over and we are looking forward to more business in the future no doubt about it."
Categorised in: Case Stories