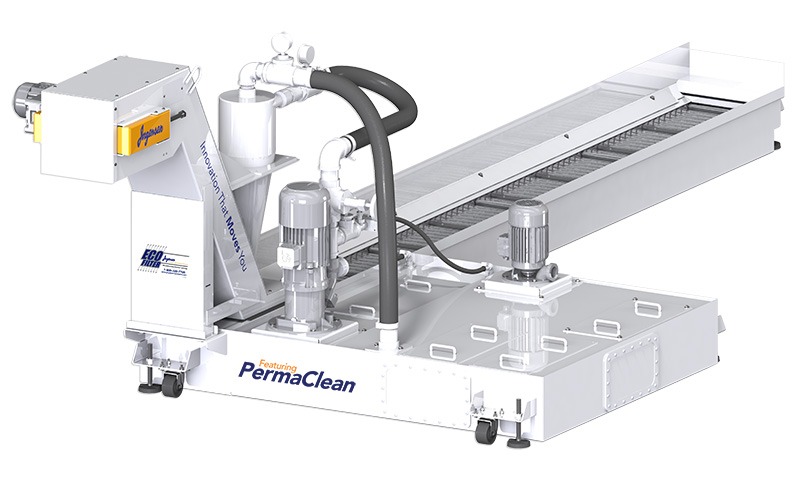 April 12, 2023 1:47 pm
It's axiomatic that good machining requires good coolant management to maintain proper cutting zone temperature, lubrication and chip removal. However, filtering and removing particulates in coolant that effectively become little bullets jetting through the machining system and disrupting the process can be quite cumbersome, requiring extensive screening, expensive coolant flushes and laborious tank cleanings. Until now.
To significantly reduce machine downtime, a new system called PermaClean developed by material handling innovators Jorgensen Conveyor and Filtration Solutions eliminates sludge build up by adding agitation to the coolant collection system or holding tank and preventing particulates from settling. The process maintains coolant clarity by allowing the removal of all chips and particulates from the coolant circuit, increasing coolant life and also eliminating sludge build-up.
The PermaClean solution is an add-on feature designed to work in conjunction with Jorgensen's base coolant circuits such as the EcoFilter  Conveyor, FlexFiltration or the FilterVeyor Permanent Media Filter. FilterVeyor utilizes a gravity drum with a permanent media filter that screens particulates and chips to clean coolant for reuse or recycling, and the EcoFilter Conveyor filters fine particulates, allowing them to exit to the bottom of a conveyor where they are scraped up and around to the top run of the conveyor belt and discharged. The FlexFiltration system combines pre-engineered modules to filter difficult materials such as cast iron, steel, aluminum, plastic and composites down to 10m or less with a platform that is modular and adaptable.
PermaClean keeps coolant and thus particulates in a constant state of agitation. This continuous swirling motion of the coolant keeps particles suspended and prevents them from settling. As a result, the suspended solids continue through the filtration process until they are virtually eliminated, reducing downtime due to frequent tank cleanings to remove sludge or the need to use a sump sucker system that removes settled particulates from the bottom of the holding tank.
Depending upon its properties, the coolant can be cleaned to 10m or less with the addition of a second-level filtration process. Bag Filters provide the lowest coolant filtration solution that is easily integrated into existing systems and offer low maintenance. Gravity roll media filters using a variety of disposable cloth medias based on specific needs and applications can be mounted to existing coolant tanks with the PermaClean solution to remove fine chips and grinding sludge.
A hydrocyclone filter that eliminates filter media consumption can also be used in conjunction with the PermaClean system. In addition to its agitation-induced particle suspension, cyclonic filtration uses high-velocity flow through a conical whirl chamber that employs centrifugal separation, throwing solids against the chamber walls and discharging through a nozzle at the bottom. Clean coolant is then ejected through a reverse vortex process from the unit's clean liquid outlet.
All three of these secondary filtration stages provide another layer of screening for the cleanest coolant possible. Special applications that require through-spindle coolant may also benefit from yet a third layer of filtration with partitioned tanks.
PermaClean also keeps machine tools running longer. Post-process particulates are abrasive. As they pass through the machining process and coolant circuit over time, they cause advanced wear on pumps, hose connections and even the interior of the machine tool itself. Removing as much of these harsh elements as possible reduces machine tool wear and tear and extends tool life, resulting in further cost savings over time.
Likewise for part quality, clean, contaminate-free coolant is also necessary for optimal part surface finishes. The same adverse effects poorly filtered coolant imposes on machine components and cutting tools can also clearly affect what occurs at the cutting zone, decreasing part quality with increased potential for scrap.
In addition to reduced maintenance and machine downtime, manufacturers can realize significant cost savings by increasing the life of their coolants. Coolants have evolved with the demands of high-speed production along with increased machining of exotic materials and have grown more expensive in the process.
The ability to fine filter coolants for continued long-term use is another way manufacturers can push back against ever-slimmer production margins. The ability to extend coolant life will also become a significant factor in the industry's move toward more sustainable production, which may soon become a regulatory imperative.
To boost productivity and profitability, manufacturers are increasingly moving to fully automated, lights-out production. For a fully automated, maintenance-free cooling circuit, manufacturers can pair PermaClean with the new automated coolant management technology known as Will-Fill. The system is available through Jorgensen's recent partnership with Belgian company Will-Fill.
Clean coolant is the key to extended tool life, reduced machine wear, improved part finishes and less downtime. Worry-free coolant tank maintenance and cleaning are achieved thanks to PermaClean system technology.
See Jorgensen's PermaClean systems featured in the April 2023 issue of Today's Medical Developments and GIE.
Categorised in: In the Press, Promotions