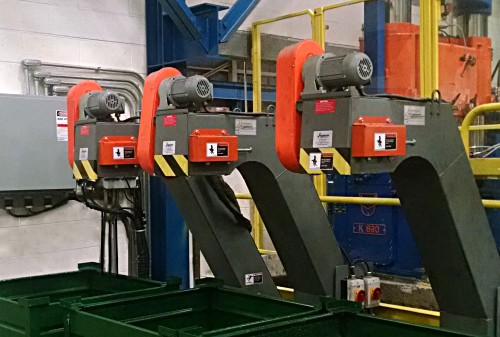 March 15, 2018 8:04 pm
As seen in Advanced Manufacturing Engineering Magazine
A major tier one parts supplier to the automotive industry, operates many Automated Twin Spindle CNC turning machines at its Detroit metro plant. The material the company is turning creates a gummy, stringy entangled nest of chips.  The machine tool chip conveyors were jamming and failing to remove these large balls of chips.  Damage to the conveyors was occurring and at least one conveyor incurred a downtime daily that lasted an entire eight hour shift.
After researching their problem online, their maintenance manager found a Jorgensen Conveyor YouTube Video about the MunchMan® II Conveyor and made a few phone calls.
Engineers from Jorgensen Conveyors visited them in person and took measurements of the part samples, measured the machines for conveyor fit up and assessed the type of material causing all the issues, which was a Mild Steel.
Given the MunchMan® II's features, engineers at Jorgensen were confident it would solve their issues.  MunchMan® II employs two conveyor belts through the lower curve, incline and discharge sections of the conveyor. This enables successful removal of the large stringy balls of chips that had been jamming the old single belt conveyors on these turning machines.
The conveyor also incorporates Jorgensen's patented UVS-EcoLogic® Control which provides constant load monitoring to protect conveyor motor and drive train components from damage in a "conveyor jam" condition where excessive torque on the conveyor may occur.  The control also features an automatic jam-clearing sequence of conveyor operation for increased uptime.
Kaytlen Rinaldi, Lead Engineer at Jorgensen Conveyors said, "We worked closely with the customer and machine tool builders to ensure proper electrical interfacing. They requested our UVS Jam Manager functionality, and also wanted our UVS to communicate with the main machine control."
"For this application we removed the inverted "V" cleats on the upper belt to make sure the conveyor could pass a machined part through in case it accidentally falls onto the conveyor" said Rinaldi.
After a successful installation and run-off, the company decided to put MunchMan® II on all their existing machines and advised their machine tool suppliers that they wanted it on any new machines they order going forward.
"We were able to understand the needs of the customer and by working together, were able to provide a solution that will benefit them in the long run.   I would consider this one of the reasons why this project was successful." said Rinaldi
"We've never had a MunchMan® II jam up or cause a downtime that was the fault of the conveyor itself.   We currently have 20 in-house and have 6 more on order.  When we've added the MunchMan® II onto all our machines, we'll have over 50 total.  So to say we're satisfied, is an understatement."  – Maintenance Manager, Metro Detroit Manufacturer.

Categorised in: Case Stories