Replacement Belts
Replacement Belts for Jorgensen Conveyors Original Equipment
Jorgensen's hinged steel belts are completely detachable, and thus very maintenance friendly.  Each part of the belt – made of extra heavy gauge steel – is held on by an axle which passes through it.  It takes only a few minutes to pull the cotter pin and replace the damaged part. There's no drilling out of spot welds or grinding down of arc welds.
There's minimal downtime – Call with the serial number of your product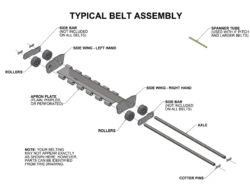 Replacement Belts for Other Conveyor Brands
Replace most Any Brand of your present belt with a Jorgensen hinged steel belt.  There are pitches, widths and bottom plate styles to fit all needs. We will need the appropriate data for the application and certain critical  dimensions. Please complete the "Belt Quote Worksheet" and email to jci-parts@jorgensenconveyors.com. Our parts team will be able to review the information and provide a quote.